News Reports
The 9th National Toxicology Congress of CST has been successfully held in Taiyuan, 2019

Publisher:CST Date:2019-10-16 10:27:44
On the great occasion of the 70th Anniversary of the Founding of the People's Republic of China, the 9th National Toxicology Congress of CST (9th NTCCST) has been successfully held from September 17 to 20, 2019 in Taiyuan City, Shanxi Province. The theme of the congress is "Frontier, Innovation and Translation of Toxicology Science in the New Era". The Congress was organized by CST. Shanxi Medical University, Shanxi Toxicology Society and the China Institute of Radiation Protection assisted to host this congress. More than 1200 delegates attended the congress, and nearly 500 abstracts were received. There were 195 oral presentations and 143 posters presentations, which focused and highlighted the cutting-age knowledge and progress of Toxicology Research achieved in China. The organizer has also invited excellent experts from oversea to give lectures on the frontier of toxicology basic research, and technology development and application at the congress. All these presentations contributed to the success of the 9th NTCCST.
The opening ceremony of the congress was held on the morning, 18 September, chaired by Chao LIU, Secretary-General of the Society. The welcoming speeches were addressed by Prof. PK Zhou (President of the CST, and Congress Chairmen), Prof. Y Jiang (Director, AMMS) and Prof. SJ Li (President, Shanxi Medical University). They have given the warm welcome to all delegates and honored guests, also expressed their sincere congratulations on the success and great progressions achieved by the Chinese Society of Toxicology., CST president Prof. Zhou officially announced the news that CST will host the 17th International Congress of Toxicology (ICT) in Beijing 2025 at the opening ceremony. It will be a well historical witness of Chinese toxicology discipline marching forward to the World frontier to hold the ICT in China. Prof. Fang Tongyu (Deputy Director, AMMS) and Prof. Zhong Rui (Vice-President, the Chinese Radiation Protection Research Institute), as well as CST Vice-Presidents, Profs Jingyuan Chen, Yuliang Zhao, Jianzhong Shen, Xingfen Yang, Shuangqing Peng, Zuyue Sun, Jianwei Zhou, Hua Li, Yuepu Pu, and other leaders and honored guests attended the Opening Ceremony and following academic conference.
The Opening Ceremony

Speech by CST President Prof. P.K. ZHOU
Speech by Prof. Y. JIANG

Speech by Prof. S.J. LI
Invited Honorable Representatives at the Opening Ceremony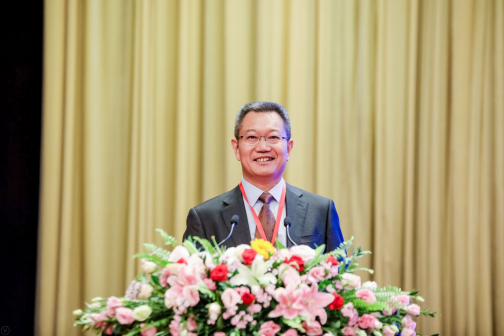 CST Secretary-general Dr. Chao LIU Hosting the Opening Ceremony
The NTCCST is the large scale and highest academic level congress in the Toxicology community in China. There were more than 1200 delegates presented in 9th NTCCST, including toxicology-related experts, scholars, technicians, educators, regulators, graduated students, and toxicology products and technology R&D personnel from all over the country. There were also more than 10 experts and scholars from the United States, France and the United Kingdom were invited to attend this congress. As invited, CAS Academician Yuliang Zhao from the China National Center for Nanoscience and Technology and Prof. Marc Weisskorf from the Harvard School of Public Health USA have given the Keynote Lectures on the topics "Current Status and Trends of Nanotoxicology" "Trans-generation Epigenetic Effects of Environmental Exposure", respectively. There were 15 invited plenary lectures, and 28 Sessions of Symposia & Workshops at which 178 delegates have given oral presentations. These presentations reflected the latest research progresses of toxicology in China, and have provided the cutting-age knowledge and academic research frontiers. During the congress, 143 posters were also displayed, which were exquisitely produced and with plentiful academic content.
Prof. Yuliang ZHAO (Keynote Lecture)

Prof. Marc Weisskorf (Keynote Lecture)
Prof. Katharine Bray (Plenary Lecture)

Prof. William Proctor (Plenary Lecture)

Prof. Ge LIN (Plenary Lecture)
The other characteristic of 9th NCCST reflected the interdisciplinary integration, such as the topics Bio-printing/ bio-3D printing of bio-tissues and their application in toxicology testing, the application trends of spectral imaging, pun microscopy, ribosomal spectroscopy detection and mechanistic application, microphysiological system and single cell sequencing in toxicology research, etc.
The congress organizer also set up the evaluation committee of excellent Presentations/Posters Awards. Thirteen excellent oral presentation papers and seven excellent posters were awarded.
Congress scenarios
Posters presentation and on-site academic exchange

Exhibition of Toxicological Technology Products
Three pre-congress continuing education courses were also arranged, including OECD in vitro skin and eye irritation testing methods introduction and interpretation (Guidelines 439 and 492), Application of stem cell technology in toxicology, Research progress of model organisms and their applications in toxicology research. These continuing education training reports are open to all delegates free of charge.
During the congress, a series awards were issues. Three outstanding toxicologists were awarded the 2019 Toxicology Outstanding Contribution Award by CST, they are Profs Chen Chunying, Jiang Yiguo and Niu Qiao. 2019 Campus Popularization Competition Awards of Toxicology Science were issued by CST.
Toxicology Outstanding Contribution Award

Excellent Organizers of Campus Popularization Competition Awards
Campus Popularization Competition Awards
Excellent Paper Award
Certifications to the Congress Sponsors

Congress Volunteers